1 Mei:
On April 29th, Super Junior-M released a repackaged album for "Too Perfect" featuring a CD+DVD version both in Korea and Taiwan.
26 Februari:
Too Perfect
"
music video
earlier, fans have been waiting patiently for the official release of their album on February 25th in Taiwan, followed by March 3rd in Korea.
It's been almost 3 years since Super Junior-M debuted with "
Me
" album, and the group has since undergone member changes, with
Hangeng
not involved anymore since he filed a lawsuit against
SM Entertainment
, and
Eunhyuk
and
Sungmin
coming in.
Besides the title track which we have already heard earlier, the album also contains five brand-new Chinese songs, including
HENRY
and
Zhou Mi
's compositions, "
Off my mind
" and "
True Love
," as well as "
Love is Sweet
," written by
Jay Chou
.
Check out the other tracks below and tell us what you think of them!
Source:
allkpop
2005–2006: The Super Junior project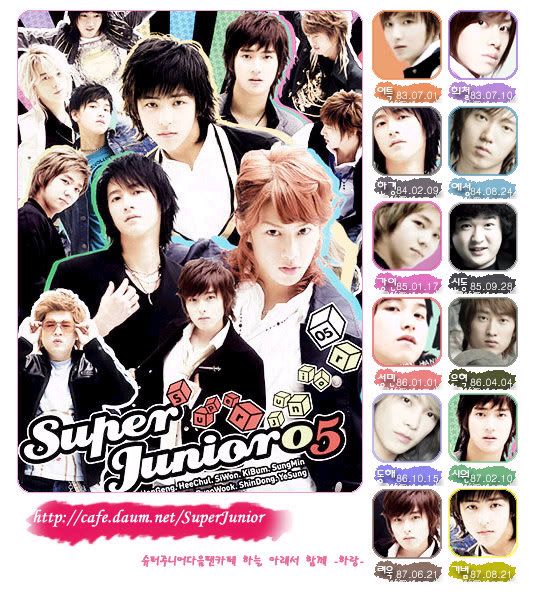 Super Junior 05 Debut pada program musik
SBS Popular Song
tanggal 6 November 2005, menampilkan single pertama, "TWINS (Knock Out)." Digital single dengan "TWINS (Knock Out)", "You are the one", dan t3 track tambahan yang dirilis online pada 8 November. Single CD dirilis minggu berikutnya,
SuperJunior05 (TWINS)
, dirilis tanggal 6 Desember 2005. Debut album mereka terjual 28,536 kopi pada bulan pertama rilis dan debut pada #3 dalam chart bulanan December 2005. Pada bulan yang sama, mereka merilis "Show Me Your Love," single kolaborasi bersama TVXQ. "Show Me Your Love" menjadi rekaman best seller pada Desember 2005, terjual 49,945 kopi pada bulan tersebut. Pada Februari 2006, Super Junior 05 mempromosikan "Miracle", single kedua dari debut album. "Miracle" merupakan single pertama yang menempati #1 pada chart musik online di Korea Selatan dan Thailand, dan mendapat perhatian dari pasar internasional.
Saat promosi "Miracle" berakhir, SM Entertainment mulai memilih member baru untuk proyek Super Junior kedua, Super Junior 06. Perusahaan juga telah menyiapkan list member yang graduate dari grup. Namun, tidak ada member yang keluar dan member ke 13 masuk pada Mei 2006. Grup kemudian dikenal dengan Super Junior, tanpa akhiran "05".
2006–2007: Don't Don and breakthrough success
Single "U" dengan total 3 track dirilis pada 6 Juni 2006, terjual lebih dari 81,000 unit. Single ini menjadi salah satu lagu Korea popular pada tahun tersebut, menempati #1 untuk 5 minggu berturut-turut pada 2 program musik top Korea. Pada akhir tahun, Super Junior mendapatkan 7 awards pada 5 acara musik award di Korea Selatan, memenangkan title sebagai Best New Group 2006.
Hyena
"The One I Love" pada program musik
KBS Music Bank
.
Sub-unit kedua mulai pada Februari 2007 dikenal dengan nama Super Junior-T. Grup penyanyi trot yamng merilis single pertama "Rokkugo" pada 23 Februari 2007 dan penampilan debut pada
Popular Songs
dua hari kemudian.
Don't Don
tidak dirilis sampai 20 September 2007. Dalam 3 hari pertama rilis, penjualan album offline untuk
Don't Don
melewati 11,000 unit, debut sbg #1 pada semua chart offline. Pada akhir September album terjual #1. 60,000 unit dipaket pada minggu pertama rilis. Walaupun
Don't Don
mendapatkan berbagai kritik, namun album ini terjual 160,000 kopi pada akhir tahun, menjadi album best seller kedua pada tahun 2007.
Album juga sukses di Taiwan; memecahkan rekor untuk ranking tertinggi album Korea pada G-music Combo Billboard Chart, melampaui album TVXQ and Shinhwa. Album Super Junior mendapat ranking di atas boy band Taiwan K One, yang debut pada #6.
Didukung dengan rilis
Don't Don
, Super Junior dinominasi pada 7 kategori terpisah pada M.NET/KM Music Festival yang diadakan pada 17 November 2007. Super Junior memenangkan 3 kategori meliputi "Netizen Choice Award" dan "Mobile Popularity", menjadi pemenang terbesar malam itu. Grup juga memenangkan "Best Artist of the Year" (Daesang).
Super Junior mendapatkan 2 award lagi pada 14 Desember 2007 pada Golden Disk Awards 2007. Walaupun dikalahkan oleh SG Wannabe dalam kategori "Daesang", Super Junior memenangkan "Bonsang" dan "TPL Anycall Popularity Award".
[edit] 2008–2009: Beyond Korea and Sorry, Sorry
memiliki kesempatan untuk konser di Hong Kong,
rating top mingguan dengan tampil dalam berbagai program variety, dan menjadi grup idol dengan kontrak terbanyak di China. Dengan absennya hampir setengah member di Korea, sub-unit keempat Super Junior dibentuk pada tahun yang sama untuk mencegah Super Junior hilang dari industri musik Korea. Dengan 5 member dari Super Junior-T and Yesung, mereka membentuk grup, Super Junior-Happy.
Cooking? Cooking!
pada 5 Juni 2008, dan promosi berakhir pada 7 September, bertahan untuk 4 bulan. Pada November 2008, Super Junior-T kembali, sebagai grup penyanyi di Jepang, disebut SuperJunior-TxMoeyan; grup ini menambahkan kata Moeyan, merupakan grup 2 komedian wanita terkenal di Jepang. "ROCK&GO", versi Jepang dari Rokuko", debut pada #19 di Oricon Daily Charts
dan menempati #2 tiga hari kemudian.
Dari 8-9 Juli 2008, Super Junior mengadakan fan meeting pertama di Jepang, di Nippon Budokan, Tokyo, sebagai perayaan untuk grand opening Japanese Homepage resmi mereka, yang di launching pada tgl 1 April 2008. 12,000 tiket untuk fanmeeting terjual habis dalam beberapa hari. Grup merilis single Jepang hari berikutnya, berjudul "U/TWINS", meliputi versi Jepang "U" dalam rilis terbatas, untuk melengkapi event tersebut. Single ini menempati #4 pada Japan Oricon Daily Chart pada hari pertama rilis. Single ini memecahkan rekor sebagai single Korea pertama yang masuk dalam top 10 di Japan Oricon Weekly Chart.
Pada 2 Agustus 2008, Super Junior meluaskan rute ke Genting Highlands, Malaysia, menjadi salah satu top guest pada MTV Asia Awards 2008 bersama dengan artis internasional lain seperti OneRepublic dan Jabbawockeez. Mereka merupakan artis SM ketiga yang memenangkan Favorite Artist Korea pada MTV Asia Awards setelah Kangta dari H.O.T dan BoA, dan grup musik kedua yang memenangkan award setelah JTL tahun 2008.
Sorry, Sorry
, dirilis pada 12 Maret 2009. "Sorry, Sorry" dirilis secara digital pada 9 Maret 2009. Dalam waktu kurang dari seminggu setelah preorder diumumkan, lebih dari 150,000 kopi pre-order.
Sorry, Sorry
merupakan album pertama mereka yang debut #1 pada Hanteo Charts, dan terjual lebih dari 29,000 kopi pada hari pertama, mengalahkan rekor Seo Taiji 25,000 kopi.
Promosi untuk album ini dimulai tgl 13 Maret dengan menampilkan "Sorry, Sorry" dan "Why I Like You" di
Music Bank
.
Dua minggu kemudian, "Sorry, Sorry" menjadi lagu no 1 di Music Bank. Selama penampilan grup pada program musik
Popular Songs
15 Maret, rating meningkat mencapai 14%, pencapaian tertinggi tahun tersebut. Dari Maret-Mei, "Sorry, Sorry" mendapatkan total 10 #1 award dengan kemenangan berturut-turut di Korea, memiliki single yang menjadi sukses nasional dan internasional. Sebulan setelah rilis, Album ini menjadi best seller album di Korea Selatan selama tahun 2009.
Sorry, Sorry
juga sukses di negara Asia lain, membuat grup menjadi to become satu-satunya wakil luar negeri untuk kedua kalinya di Taiwan annual Golden Melody Awards. "Sorry, Sorry" juga menempati #1 memecahkan rekor 33 minggu di Taiwan.
Sorry, Sorry
merupakan best seller album berbahasa Korea di Taiwan, Thailand, China, dan Filipina, dan menjadi K-pop album pertama yang menempati #
1 di berbagai negara. Super Junior memenangkan tiga award di 1st MNET Asian Music Awards - Overseas Viewers Award, Mobile Popularity Award dan CGV Popularity Award meskipun tidak hadir. Super Junior
Sorry, Sorry
memenangkan Daesang pada 2009 Golden Disk Awards.
2010-present: Bonamana
KBS Music Bank
, membawakan lagu "Bonamana" dan "Boom Boom".
Hanteo
, album repackaged telah terjual lebih dari 200,000 kopi pada tanggal tersebut.
Tur juga diadakan di Qingdao pada 28 Agustus 2010. Tur juga akan dilakukan di Beijing pada 23 Oktober 2010 dan Nanjing pada 13 November 2010.
Pada 4 September 2010, Super Junior ikut dalam SM Town Live '10 World Tour bersama dengan anggota di bawah label SM di Staples Center,Los Angeles. Meripakan kali pertama SM Town tampil di luar Asia. Pada 23 September 2010, Super Junior merilis original soundtrack "Angel" untuk
Haru: An Unforgettable Day in Korea
, drama yang mempromosikan Korea tourism.
Super_Junior